e-mobility solutions
Fit for the future
ISP Industrie GmbH has been selling the product portfolio of Stöhr GmbH for everything to do with electromobility in the southern Bavarian region since 2021. Find out more about our innovative e-mobility portfolio.
Our e-mobility products
charging stations
charging station – wall boxes
rental charging parks
e-Locker: locker & charging station
bicycle garages
e-bike charging stations
Buy products on eBay Classifieds
From now on, in addition to our commercial customers, private end customers can also buy our innovative e-mobility products.
Simply look through the smart solutions for everything to do with electric mobility in ebay classified ads and shop.
For the first time, solutions sold by ISP Industrie GmbH are not only available to commercial customers.
The following products can now be ordered:
Partnership with the company Stöhr GmbH
The medium-sized and owner-managed company group ISP Industrie GmbH will in future sell the product portfolio of STÖHR GmbH in the southern Bavaria region. The focus is on the marketing of future-oriented e-mobility solutions such as charging stations and rental charging parks. Also on offer: The new electronic access system for secure bicycle parking systems, charging lockers and bicycle garages, which can be purchased with or without STÖHR CHARGING STATIONS. The product range is rounded off with disinfection steles, which are used for contactless hand disinfection.
With further agreements, the two managing directors, Michael Erbar and Alex Hense, underscore their common path in the future. From now on, the cable harnesses and cable assemblies of the ISP Industrie will be used in the production of STÖHR GmbH. The established manufacturer STÖHR also relies on the production process outsourcing (PPO) at the ISP Industrie and thus ensures timely delivery to customers even in the event of production bottlenecks. Here STÖHR GmbH relies on the years of experience in the field of component assembly of the Brunnthal-based ISP Industrie GmbH.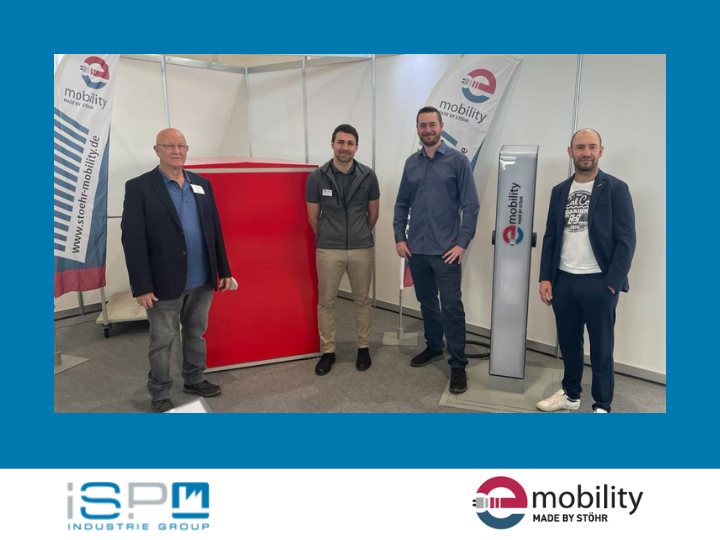 Additional services
Pre-load storage to optimize the charging infrastructure
Setup and parameterization of local dynamic load management
Support and advice on planning and design of connections and pre-installations
Creation of foundations: screw pile foundation (without concrete), concrete foundation (supply of foundation anchors to accommodate the base)